News of the Ayudas Más Franchise
Learn about the latest accessibility and orthopedics franchise.
The Franchise Helps More, exclusive distributor of smart wheelchairs.
Accessibility and orthopedics franchise, will distribute in Spain and Portugal the only electric chairs with automatic folding of the market.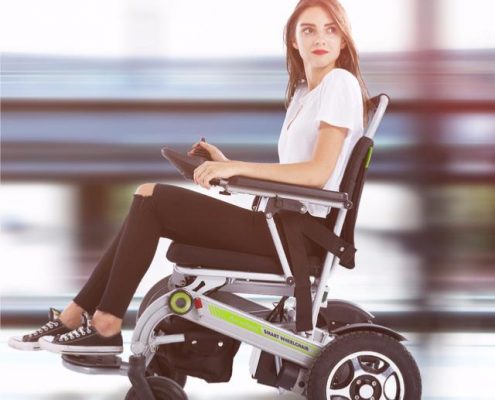 The franchise for the sale, rental and technical service of accessibility and orthopedic systems of high quality, Ayudas Más, has signed an agreement with the renowned electric transport brand Airwheel, becoming the exclusive distributor for Spain and Portugal of its new chairs Smart wheels with automatic folding, H3.
Some chairs that are revolutionizing the market of reduced mobility, since they are closed by pressing a button automatically without the need to make efforts; feature to date only present in scooters.
The H3 are made of aluminum, with better loading ability and durability, supporting a maximum weight of 130 kg.
In addition, they offer total security. During the march, they alert if there is an obstacle in the way and have a smart joystick controller, which is stopped when the hand does not touch the joystick. As well as large wheels with 360º turning radius designed to offer a smooth glide.
The H3 chairs have a rear motor with double drive that provides a powerful kinetic energy, reaching a speed of up to 6 km / h and a range of 28 km; but they give the option of using it of manual form when it is needed, through its lever of desenmbrague the motor.
Its seat is double mesh honeycomb, so it turns out to be breathable, resistant to wear and durable.
All these characteristics make the H3 wheelchairs a unique product in the market and that is why Ayudas Más is committed to its launch exclusively in both countries, being pioneers in its distribution through its eight stores and e-commerce.
Under a more affordable price than normal, the most innovative franchise in the sector fully trusts that it is a sales success, always embraced by the renowned brand Airwheel that always gives a plus of quality to their products.
Promotional video Electric wheelchair with automatic folding Airwheel H3.